Collaboration technologies, and customer demands, have changed considerably over the last decade. When I first started at Node4 in 2007 (as a team of one), the terms "Collaboration" and "Unified Communications" or "UC" were not so common.
Demand for voice
In 2007, we categorised our products and solutions as "Voice Services", which reflected that most of our customers were predominantly using voice-only communications. Video and team collaboration tools were available, but not so widely adopted.
We've always had a huge focus on customer service, delivering on what we had promised to our customers and making sure we were always looking ahead at technology that our customers may need (or at least want) in the future, so we could provide solutions for them and be seen as their trusted advisors.
There were two core products in the Voice Services portfolio back in 2007: SIPLink, our SIP trunking platform, and hostTALK, a hosted Cisco platform. hostTALK was an innovative platform that took Cisco on-premises Call Manager systems and multi-tenanted them. Think of our current Cisco HCS architecture but built before this was an option.
All about centralisation
At that time, we were seeing customers wanting to move away from on-premises systems. They were seeing the benefits of creating MPLS networks and centralising services in a data centre, including telephone systems and contact centres.
Some of our customers were moving their PBXs into our data centres, others were happy to move to our hostTALK platform and outsource their telephony to us.
Today, customers continue to want to remove the burden of dedicated hardware that they own and maintain. Many customers have legacy hardware or software platforms that are proving difficult to maintain and keep updated. This can be due to outdated hardware or recruiting and retaining trained staff to maintain and support them.
The drive to move services to the cloud is a priority for most IT leaders. The shut down of BT's ISDN network is also a good indicator of the evolution of UC – customers are adopting IP based services and will continue to do so.
New tools, new team
Some things never change, but others clearly have. There's been a big shift towards non-voice communications.
Video adoption has increased significantly, enabled by improvements to user experience and quality. In many businesses, video has become the norm – with users instinctively making calls with video switched on, rather than making a conscious decision to use it.
Team collaboration tools have also evolved. Our customers' users are used to being able to communicate with their friends and family whenever they want, from wherever they want, on any device. Apps such as FaceTime and WhatsApp have become the norm, and the features that they offer are taken for granted by many. We're working hard to ensure that these features can be delivered to business users in a secure, manageable and reliable way – whilst providing equally positive user experiences.
As the collaboration market has grown, so too has our team. No longer am I the solo member of the collaboration team – I lead a team of 12, with several others involved from various teams across the business.
One role that we have recently introduced to the team is Adoption Engineering. The idea is that when a customer purchases a collaboration solution, the initial deployment will not be the final design, topology or configuration.
Customers' demands change, as does the technology, and the Adoption role is there to keep existing customers up to date, to introduce new features, to optimise their deployments and to ensure their staff are using the tools we provide in the best way.
Adapting for the future
The evolution of collaboration – and changing customer demand – isn't slowing down any time soon. In the coming years, businesses will increasingly be investing in AI solutions.
This will improve user experience, whether during meetings (for example using Cisco' Cognitive Collaboration tools) or as part of Customer Contact, improving interactions with customers.
As for the team, we're adapting to the changes once again. We've created a dedicated team of collaboration experts who will be driven specifically by customer needs, in terms of bringing future solutions to the market.
By putting customers at the forefront of business, and addressing their business and sector challenges, we'll be focusing on what's 'real' and 'now', in order to really thrive in this digitally transformative world.
Get started on your workplace transformation journey now.
---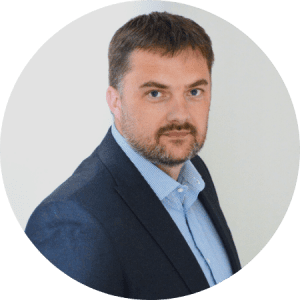 Who is Richard?
Richard Buxton has worked within the VoIP and Unified Comms industry for over 20 years. Starting out in the industry, he was responsible for adding IP telephony functionality to traditional PBX systems – years before the technology had been widely adopted. He then moved into the service provider sector and helped maintain and grow a SIP trunking platform and launch a hosted telephony solution.
Over the recent years, he has built a team and developed the Collaboration portfolio for Node4, our parent company. More recently, he has migrated the entire Collaboration portfolio and teams into our brand new business unit – N4Engage.
Find Richard's full author profile here.