Products
Unified Communications
Unified Communications
Enable effective collaboration throughout your business, while gaining the financial, operational and strategic benefits associated with cloud services.  
With our Unified Communications Solution you get access to a full suite of enterprise-grade collaboration tools and applications, on a Cisco-verified cloud platform.  
Seamless collaboration, delivered with the flexibility and cost benefits of a cloud service.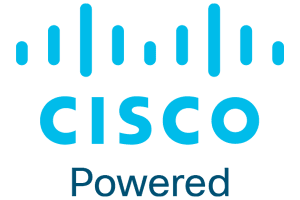 Is your collaboration solution becoming a burden?

On-premises equipment takes time and money to maintain, both of which could be better spent on your business' strategic objectives.

Are you equipped for remote and hybrid working?

Your users increasingly expect access to collaboration and productivity tools, wherever they are, whatever device they are using.

Keen to increase agility to keep up with competitors?

Is a CAPEX-heavy approach, combined with fixed IT assets and boundaries, stopping you from meeting your business' changing needs?
How our Unified Communications solution works
Being a secure 'as a service' offering, everything's included – backend systems, collaboration applications, devices and ongoing management and support.  
Our cloud-based collaboration platform integrates with our carrier grade SIPLink service, and is delivered across our national MPLS network through UK data centres.  
Enterprise-grade collaboration tools
Bring the best collaboration tools to your users, choosing and managing applications from a single user portal. Features include: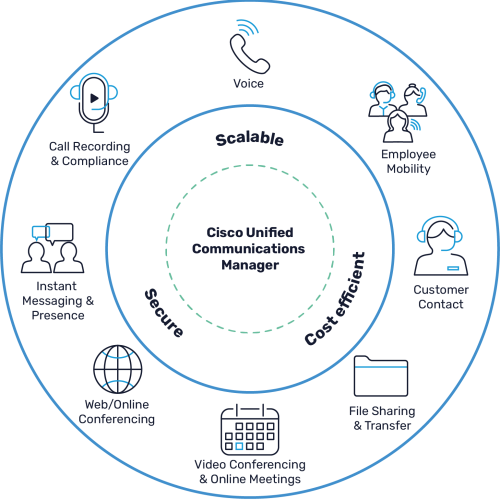 Predictable costs

Shift to an OPEX model, paying on a per user/per month basis so that budgeting, costs and scaling remain within your control.

More flexibility

Meet your business' changing needs, quickly scaling by adding or removing users, or even trialling new applications.

Greater productivity

Access a full suite of enterprise-grade collaboration tools, including applications for remote working.
Resilience

Remain 'always-on', thanks to our robust SLAs, technical expertise and enterprise-grade infrastructure, 100% controlled by us.

Full management

Leave maintenance, management and support to us, so your IT team is free to focus on strategic objectives.

Evergreen solution

Frequent updates give you access to Cisco's latest technologies, bringing operational and competitive advantages.
Your choice of devices
Ensure the best user experience, equipping your workforce with the devices they need to get their jobs done. From deskphones and softphones, to Cisco Webex Boards and other meeting room equipment, the choice is yours.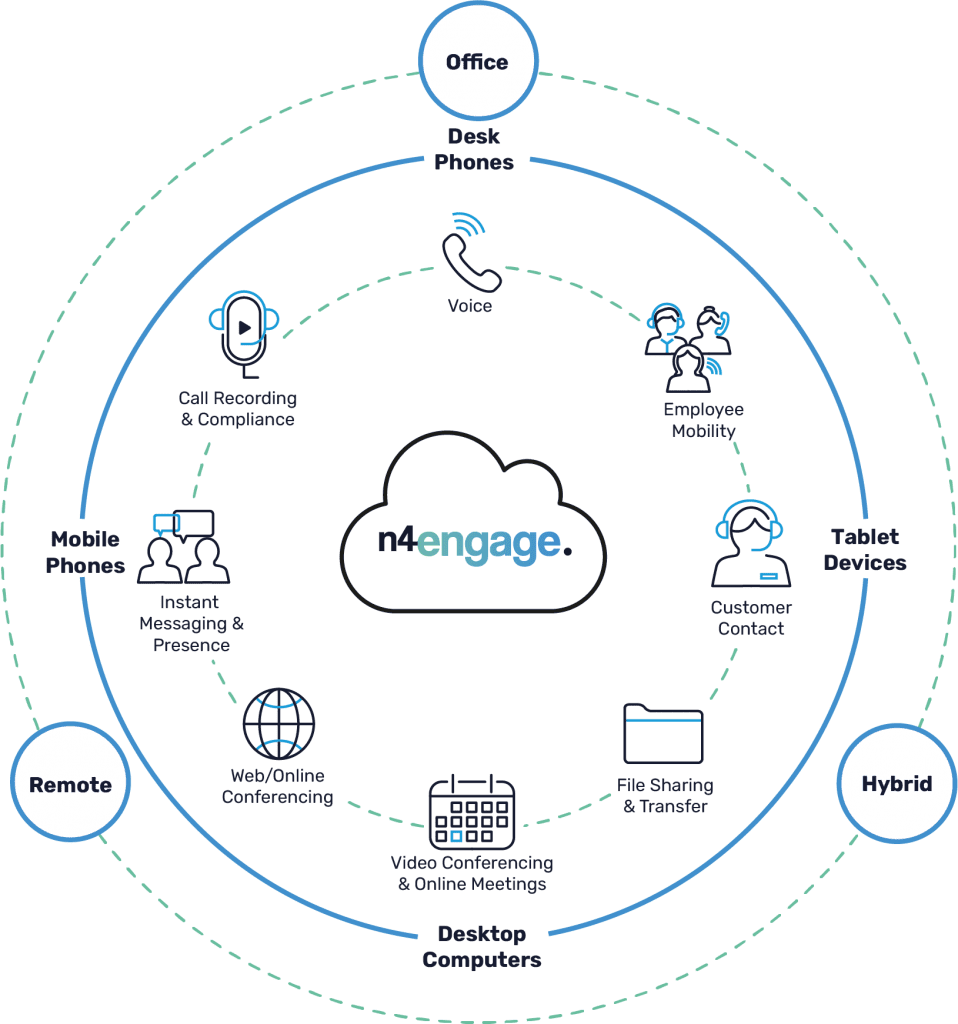 Extensive security
Ensure your business, employees and customers are protected, with end-to-end security:
In the cloud:
With ISO27001 certified data centres and Cisco CMSP accreditation for our Unified Communications Solution, you can be sure our infrastructure meets the highest security standards.

Our Unified Communications Solution is containerised, with applications that are unique per customer and built on secure virtual machines (VMs).

The platform is built into a secure, single tenanted, caged area in our data centres, ensuring true data separation for customers who require security compliance.

Built in Disaster Recovery means that your operations remain resilient, even in the event of data loss or cyber threats.
In applications: Cisco's collaboration applications encrypt data streams from end point to end point, plus you can set risk-based policies and see user activities.
On devices: Force PIN-lock and remote wipe compromised mobile phones.
Our Packages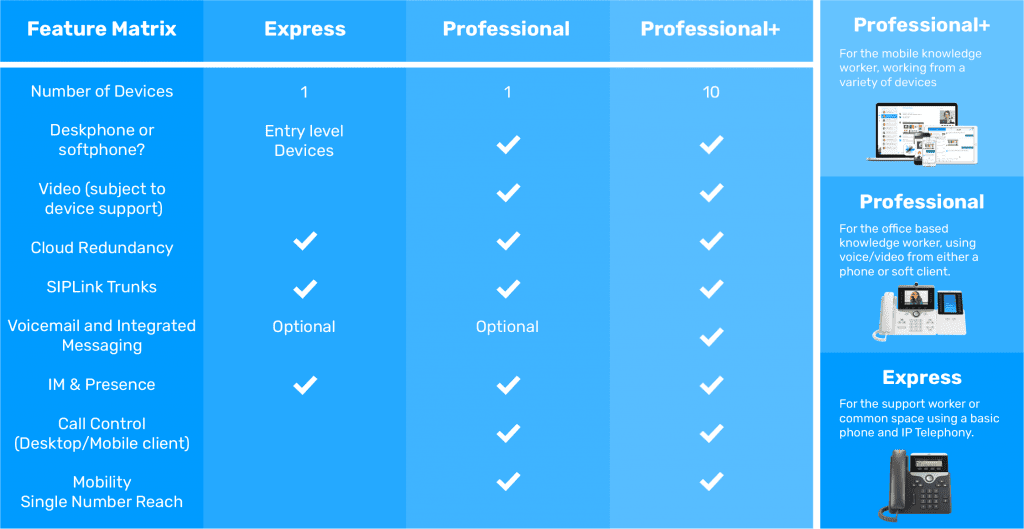 Why N4Engage?
Over 15 years' experience selling Cisco products.

Cisco CMSP accredited for Unified Communications.

Agnostic approach, working with a variety of vendors.

Commitment to personalised delivery.

Connectivity across our owned and operated MPLS network.

Secure infrastructure, including ISO27001 certified data centres.

Next-generation cloud and hosting solutions expertise.
Why Cisco?
A leading brand in Unified Communications and Collaboration.

Gartner Magic Quadrant leader in UCaaS.

Heavily invested in R&D, bringing the latest technologies to customers.





Want seamless collaboration, delivered with the flexibility and cost benefits of a cloud service?
Take advantage of our Cisco-powered Unified Communications solution. Simply fill in the form below and we'll be in touch.