Products
Inbound Call Services
Inbound Call Services
Our inbound call solution, powered by Myriad technology, enables you to deliver a great caller experience whatever challenges you're facing. Whether you're approaching a peak period or responding to a sudden market change, you can adjust your inbound call service quickly, easily and cost-effectively.  
Through our intuitive user portal, you can make call routing and inbound call management changes, as well as get instant access to reports. All according to your timescales, to meet the needs of your customers.  
Provide the best customer experience, whatever the conditions, with our advanced inbound call solution. 
Finding it hard to manage inbound calls during peak periods?

High volumes of call traffic put pressure on your infrastructure, meaning it's only a matter of time until problems occur.

Prepared for managing calls in the event of an unexpected outage?

You need a disaster recovery solution that will enable you to continue delivering great customer service.

Want to avoid the lead times and costs of traditional voice services?

Perhaps you want to set up a temporary service quickly and cost-effectively, without having to invest in hardware?
Powered by Myriad
A fully-based intelligent network system, Myriad sits above your SIP platform, processing inbound calls before they reach and impact your infrastructure.
Myriad brings a host of benefits including:
First choice

 for advanced inbound calling 

– 

UK businesses have been relying on Myriad for their 

inbound calling operations for the best part of a decade. 

 

99% availability backed by robust SLAs – 

as a

n intelligent network system, 

Myriad contains no single point of failure and is both logically and geographically resilient. It operates from two separate, highly secure national data centres, and includes a comprehensive range of physical and software redundancies. 

 

Technology we believe in – 

we

're so convinced by the benefits of Myriad that we use it in-house 

as part of our inbound call solution.
Not just a call routing platform
Simple local and non-geographic number routing is nothing new. It's the advanced features, all configurable to your requirements, which really separate our platform from the competition.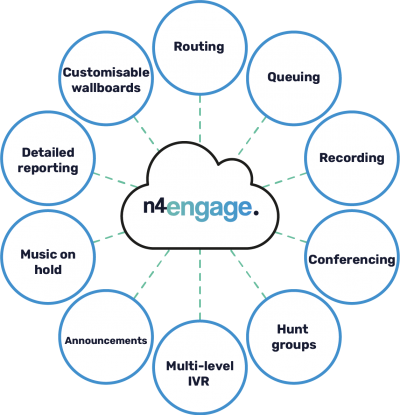 Our inbound call services provide a unique range of benefits
Call control

Make changes to call routing, call management and monitoring features whenever you need to, on any device with an internet connection. 

Simple set-up

No on-premise hardware installation needed. Set up inbound calling services in minutes, using call management features in your user portal.

Resilience

Manage every customer call, using our platform to handle high volumes of customer calls or as part of your disaster recovery strategy. 
Flexibility

Meet the changing needs of customers. Scale services to respond to spikes in call traffic, then switch off when no longer needed.

Budget friendly

Protect your bottom line with no capital outlay, pay-as-you-use cost structures and competitive call rate packages. 

Customer insights

Monitor and improve the way you handle inbound calls, using a range of in-depth reports and statistics. 
Enhance your inbound call services
Access in-depth reports and statistics to really understand the inbound calling experience and how you can make changes to improve it.
Create customised reports, or use dashboards displaying key customer service metrics such as:
Number of calls
Abandoned calls
Call duration
Number of callers in call queues
Why N4Engage?
Comprehensive solutions – we can add advanced inbound call services to your existing collaboration solution, whether that's our carrier-grade SIP platform, Microsoft Teams Direct Routing, Unified Communications or a Contact Centre.
Expert consulting – our experienced collaboration project engineers are on hand to help you with number routing and delivery decisions.





Are you ready to provide the best customer experience, whatever the conditions?
If you answered 'yes' then our inbound call services are for you. Simply fill in the form below and we'll be in touch.