Business Solutions
Hybrid Working Solutions
Hybrid Working Solutions
Industry analysts are predicting an increase in remote workers, compared to pre-pandemic, which means that in future, you could be managing a 'hybrid workforce' – a mix of onsite and offsite workers.  
Even if you want all of your workers back in the office, all of the time, you can't escape the trend towards a flexible, hybrid working model. Employees will want to access business data in the field, collaborate with colleagues while travelling between sites and catch up on emails from home. 
Empower your teams to work productively, wherever they are.
Concerned about business productivity when staff are working remotely?

Limited access to tools, issues with connectivity and legacy collaboration solutions can leave your staff feeling isolated and unproductive.

Need to close the gap between onsite and offsite user experience?

Remote staff are left at a disadvantage if they're not guaranteed the security, connectivity and collaboration they get in the office.

Not sure your teams are collaborating when they're physically apart?

You need staff to communicate from wherever they are, in order to solve complex business challenges and make informed decisions.
Managing a more complex, hybrid workforce
How do you provide a hybrid workspace that is secure, collaborative and offers staff the tools they need to do their jobs?  
You need a strategic, rather than tactical, hybrid working solution – which is where we come in. Drawing upon our expert consultancy services and broad IT solutions portfolio, we'll design, deploy and support a hybrid working solution that is the best fit for your business and its future.  
We'll work with you to…
Our experts are here to help you in whatever way you need, no matter what stage of the hybrid journey you're on. We'll take you through three key phases in order to guarantee you get the most out of your hybrid workplace solution.
Assess your existing technology situation, including reviewing any tactical deployments of remote working solutions.

Define your desired goals for hybrid working and then identify what's needed, from a business and technical perspective, for your project to function.

Plan

 and design

 

a 

best-fit solution and deplo

yment roadmap. W

e

 can build, manage and support the IT infrastructure 

necessary to create your perfect hybrid work

space

. 

 
The Rising Trend of 'Work Anywhere' and How to Future-Proof Your Workforce
In 2020, we were thrown into a remote working environment with limited time to adequately prepare. Now, many of us are considering a new 'work from anywhere' approach which incorporates both remote and office-based working.
Our latest whitepaper, in collaboration with Cavell Group, takes you through market research on the trends that businesses need to be aware of and how to future-proof your communications stack.
Our hybrid working solutions provide a unique range of benefits
Secure

Get end-to-end security, plus secure solutions designed to help you manage the risks of remote working.

Strategic

Replace or refine tactical deployments, so your business is geared up for the future, hybrid workplace.

Collaborative

Promote communication between colleagues, customers and partners, whether they're on or offsite. 
Reliable

Scale to changes in customer demand and your workforce, including increases in remote workers.

Productive

Drive business productivity, with tools that enable employees to work on any device, wherever they are. 

Modern

Replace legacy technologies, improve business operations and meet staff demand for more flexible working.
Managed

Take the pressures off your internal teams with fully managed services, maintained and supported by us. 

Cost-effective

Only pay for what you use on a per user/per month basis, making budgeting and cost control far easier. 
The Journey to a Hybrid Workplace
In 2020, we were thrown into a remote working environment with limited time to adequately prepare. Now, many of us are considering a new 'hybrid working' approach where there's a mixture of office-based workers and remote workers.
We teamed up with Cisco, Enghouse Interactive and Cavell Group to bring you best practice approaches to hybrid working, top considerations to think about, and the best tools to improve collaboration and business productivity.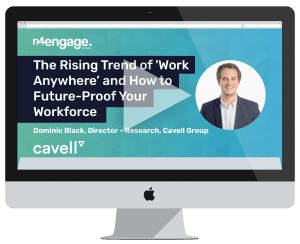 Join Dominic Black, Director – Research, Cavell Group as he looks at how the workplace has changed irrevocably in 2020 and what the future of the workplace looks like. Not only will work be done 'anywhere' in the future, but the service and technologies that enterprises need to be adopting will continue to grow in importance to enable this shift.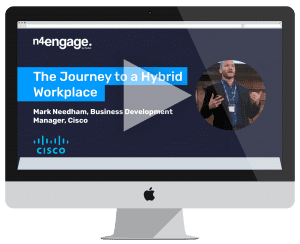 Join Mark Needham, Business Development Manager, Cisco, as he explores how intelligent workspaces are a critical component in the journey to a hybrid workspace. Displays, sensors, automation and AI will support the modern secure workforce by removing friction points and keeping workers safe and productive from any location, at any time.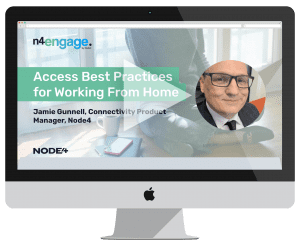 Finding the right work space within your home to work from and ensuring that space is free of distractions and noise is key to maintaining great productivity levels. Jamie Gunnell, Connectivity Product Manager, takes a look at tips and actions you can take to ensure you are doing all you can with your technology to help improve your working from home experience.
Vicky Withey, Head of Compliance, Andy Collins, Head of Security, and Martin Rothe, SOC Team Leader, explore the key security and compliance considerations when adopting a hybrid working approach.
Join to discover learnings from our customers, top tips on ensuring your workspace is secure, and suggestions on where to begin if you're at the start of your hybrid working journey.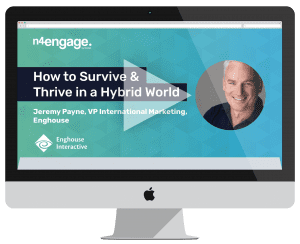 With remote and hybrid working in high-demand organisations need to rethink new practices to adapt to the new way of working through a Digital by Design approach.
In this session Jeremy Payne, VP International Marketing, Enghouse Interactive, takes a look at the top five changes smart organisations need to make to their customer experience approach to survive and thrive in this brand new hybrid world.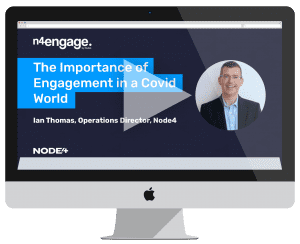 In this session Ian Thomas, Operations Director, explores how to maintain a strong company culture regardless of whether employees are in the office or working remotely, as well as exploring the importance of employee wellbeing.
You'll leave this session with a greater understanding of the benefits of culture and wellbeing, alongside tips and best practices to migrate from remote working to hybrid working.
Deliver an end-to-end solution
When you team up with our in–house experts in collaboration, as well as our wider network of experts within Node4, you'll get a solution which meets your various business needs, is bespoke to your requirements and is future-proof.  
We provide a range of IT services necessary for building a hybrid working environment, including: 
Collaboration

– Instant messaging and chat 

– Content sharing 

– Calling – voice and video

– Digital whiteboarding 

Calling

– On-premises, hybrid and cloud 

– Any device, anywhere 

– Microsoft Teams Calling 

– Call recording and compliance 

Vi

deo co

nferencing

– High–quality video and audio

– Content sharing 

– Audio transcription 

– App integrations 

Customer contact

– One user interface for call handling 

– Omnichannel 

– Analytics and insights 

– Any device, anywhere 
Modernise your contact centre
Gone are the days of agents sitting side-by-side in one call centre. Equip your agents to work remotely or onsite, guaranteeing a consistent user experience and a solution that meets your security and compliance requirements.
Prioritise customer experience, with options for customers to interact with agents over the phone, email, social media messaging, or even collaboration tools like Microsoft Teams and WebEx Teams.
We offer a range of customer contact solutions to meet your business' particular requirements, whether that's an inbound call service that can be set up in minutes or a contact centre solution for a dispersed workforce, handling hundreds of calls each day.
Why N4Engage?
We've been providing collaboration solutions for over a decade, drawing on our in-house expertise and strong relationships with industry-leading vendors.
As a close partner of Cisco and one of only a handful of organisations to hold Cisco Powered Hosted Collaboration Service (HCS) accreditation, you can be sure we know our Cisco products.
We regularly undergo rigorous third-party audits of our operations, verifying that we have the expertise to provide reliable, secure and supported collaboration solutions.
A trusted Microsoft Partner, we hold certifications including Microsoft Azure Expert MSP, and Microsoft Tier Cloud Service Provider (CSP) Direct Partner.
These enable us to deliver a true hybrid platform, with extensive capabilities across Azure public cloud, as well as services deployed in our own UK-based data centres.
Services include Microsoft 365 or Office 365 licences, and our Direct Routing and Teams Call Recording solutions utilising Microsoft-certified technology.





Are you ready to begin your journey to a hybrid workplace?
Empower your teams to work productively, wherever they are with our hybrid working solution. Simply fill in the form below and we'll be in touch.