Now more than ever, businesses need to work hard to stay in touch with their customers in a relatable and relevant way.
While lockdown life remains the norm, it can be easy to let communication with your customers dip. But if you want customers to remain engaged, it's vital you instil confidence and reassure your customers that you are still there for them.
While the coronavirus pandemic has brought countless challenges to businesses, the good news is there are ways to keep serving your customers during these challenging times.
More aspects of our daily lives have moved online, and people are checking social media more often than before.
DOWNLOAD OUR FREE GUIDE

Becoming a More Agile Business: 6 tips on improving the ways you communicate and collaborate.

DOWNLOAD NOW ->
Turn this time of adversity into opportunity by boosting engagement with your target audience using our top five tips…
5 top tips on enhancing customer experience
Make yourself available
Keep communicating
Stay connected internally
Post blogs
Use social media
Make yourself available
In today's connected world, customers expect to be able to interact with you through various channels, including self-service, web chat, video and social media messaging.
Consider what you already have in place and how this offering can be improved. For instance, how about introducing a web chat function to your website? This provides a more convenient way for your customers to get in touch.
Also, make it easy for your customers to contact you by:
Ensuring your contact details are displayed prominently on your website.
Keeping your details up to date on Google My Business.
Using social media to let people know you're available to talk.
These little touches show your customers that you welcome their contact and are still available to help and support them.
Keep communicating
Effective communication is key to a great customer experience. So, don't go quiet on them.
Whether it's business as (a new) normal for you or if you've had to temporarily close, customers will empathise with you as long as you communicate with them effectively and honestly.
Pick up the phone or send personalised emails to see how your customers are doing and if there is anything you can do to assist them. This personal touch will go a long way to making your customers know that you haven't forgotten about them.
Alternatively, with people missing face-to-face interactions, video calls are an ideal solution in the current climate.
Stay connected internally
As your staff continue to work from home, it's important they can effectively communicate with other team members.
Ensure your staff are equipped with the right collaboration tools. This allows them to stay in touch and keep each other up to date on their workloads.
This keeps things simple and organised – something that is key to providing the high level of customer service your customers have come to expect from you.
Post blogs
Do you post regular blogs on your website? Consistently posting valuable content has a host of business benefits.
Not only does it keep your customers engaged and informed, but it also increases traffic to your website.
What's more, posting relevant content on your website regularly helps to improve your Google rankings.
Each time you post a new blog on your website, create a social post encouraging your audience to read it, comment on it and share it to boost engagement.
The great thing about blogs is you can repurpose your content for other platforms. Take short nuggets of wisdom and turn them into social posts or condense your copy into a short script for a video, for example, for even more opportunities to engage with your customers.
Use social media
While businesses might not yet be comfortable "selling" as normal, it's important to stay connected with your audience so they don't forget about you.
With more people online than ever before, social media presents the perfect opportunity for businesses.
Create a list of content ideas, such as:
Articles and blogs
Company updates
Industry news
Tips and tricks
Questions and polls
Live-streamed updates
And, make sure you have a plan in place to keep post scheduling simple and consistent.
Remember, posting an image with your caption is key to engaging your customers. Did you know that a social media post accompanied by a photo is 10 times more likely to get engagement?
You could also use social media to praise your hardworking staff during lockdown. This really helps put some faces to your name, and your staff will appreciate the recognition.
Are you ready to boost your customer experience?
The above tips will help you to provide a great customer experience at this point in time. But is your business truly equipped for effective communication and agility in the coming months?
For further advice, download our free guide:

Becoming a More Agile Business: 6 tips on improving the ways you communicate and collaborate.

DOWNLOAD NOW ->
---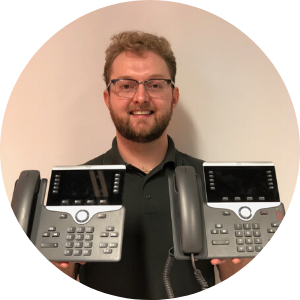 Who is Simon?
Simon has been working in the Telecommunications, VoIP and Unified Comms industry since 2004 working for several of the industry's leading service providers. From traditional on-premise PBX systems to cloud-based IP telephony solutions with deployments in both the UK and abroad, Simon has great breadth of experience across multiple service industries.
If you're looking for an expert to guide you on how to make the best use of your technologies, Simon's the man to call.
Find Simon's full author profile here.