Contact centre efficiency is valued by agents and customers alike. We all know what it's like to be on the other end of the phone to a less efficient contact centre and the effect it has on our experience.
Ever been told "your call is important to us", only to end up being placed in a queue, or "you are currently fifth in the queue" and left hanging for hours?
Being left in queues for extended amounts of time is enough to send even the calmest of people into a fit of rage, and phrases such as "excuse me whilst I put you on hold", "you are currently fifth in the queue" and "your call is important to us" can only fuel the fire and add to a callers' annoyance.
When we finally get through to an agent, they may be calm and polite, but it doesn't stop us from getting frustrated by how tedious the experience can be. But wait, why do we simply accept this as a bad experience we all must go through?
Here at N4Engage, we are experts in contact centre design and believe in providing a tailored solution to all our customers. We can help make your communication centre stand out from the crowd and be a pleasant and positive experience for your customers.
Here are some of our top tips on how you can improve your contact centre efficiency and provide the best possible service to your customers.
Get information before you refer to an agent
You may think that reducing an agent's average call handle time would be detrimental to customer service. Well, let me share something with you.
Let's say that when someone calls your organisation, the first thing your agents do is ask for an account or reference number. The customer then relays this number to your staff and waits whilst it is entered into your back-end system. Before you have engaged with the caller, approximately 30 seconds have passed and if you take 1,000 calls per day, this equates to 30,000 seconds or 500 minutes. That's over 8 hours a day just asking for an account number!
If you ask the caller to input this information prior to speaking to an agent, even if only 50% of callers provide their account number in advance (30 seconds on 500 calls), that still works out at over 4 hours per day, almost 21 hours per week of saved time.
That's more time for your agents to answer more calls – and less time in queues for your customers.
Use callback
Callback is an option that you can present to your callers to leave their number and short message. They can then hang up and go about their day and an agent will call them back when available.
You can use callback in two ways. The first is to offer callback to customers who are on hold. The other option is to offer this to customers who call you when you are closed, meaning you can call them back when you next re-open and you don't miss an opportunity.
So why use callback?
Customers who hold for a long time get angry, and it takes extra time to placate them, which takes up more of an agent's time than a standard call.
Studies show that callback can help lower abandonment rates by around 32%. This will also assist in evening out high call volume periods (peaks and troughs) and what's not to like about that!
Open up other communication channels
If you are finding responding to customers' emails or social media posts whilst answering calls a challenge, why not handle these customer interactions like you would a phone call?
With an omni-channel communications centre platform, you can queue and then evenly distribute multiple types of interactions such as email, webchat, fax and social media posts all within the same contact centre application. You can even use bots to provide customers with answers automatically!
By introducing some of these suggestions, you can successfully reduce an agent's average handle time and magically create more time to serve other callers. And we all know that happier customers mean higher customer retention.
Want more advice on how you can improve customer contact? Get in touch to discuss your contact centre design needs.
---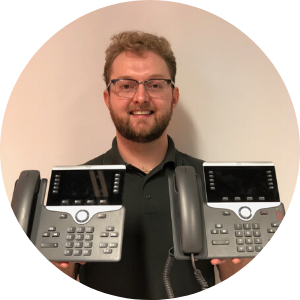 Who is Simon?
Simon has been working in the Telecommunications, VoIP and Unified Comms industry since 2004 working for several of the industry's leading service providers. From traditional on-premise PBX systems to cloud-based IP telephony solutions with deployments in both the UK and abroad, Simon has great breadth of experience across multiple service industries.
If you're looking for an expert to guide you on how to make the best use of your technologies, Simon's the man to call.
Find Simon's full author profile here.