By Dominic Black, Director of Research at Cavell
This blog summarises a webinar on 'The Rise of Remote Working and How to Future-Proof Your Workforce', which you can view here.
There's no doubt that remote working is here to stay; amongst the 2,000 businesses Cavell Group interviewed in 2020, 77% said they'd be aiming to offer it in 2021.
What's less clear is the nuances in the market; what kinds of businesses and workforces will be embracing changes to the way we work? If you're a business adopting remote working for the long-term, how can you prepare for it? What technology do you need to deliver the best remote working experience to your workforce?
Remote working trends
It seems like everywhere we look nowadays we see the headline 'remote working is here to stay'. We dug a little deeper to uncover the following trends:
Remote working isn't for everybody
From our interviews with businesses in 2020, it's become clear that we won't all be moving to a fully remote working world. Most organisations will adopt a hybrid model, where some of their employees will be at home and others in the office.
Some industries will be much more predisposed to enable a remote workforce. Construction, transport and most business and professional services believe they'll have more remote workforces in future, whereas the hospitality, education and manufacturing sectors see less potential.
Also, certain roles within these companies are going to be able to work from home more effectively. For example, C-level staff, sales, marketing and admin teams are more likely to be working remotely in the future.
Younger generations will drive changes to the way we work
By 2025, Generation Z will make up 36% of the workforce, up from 10% today. And what we see from this newer generation is that they're very video-focused, which is going to drive demand for collaboration tools.
We also see more appetite for working from home, using lots of different technologies – and users will expect them to work seamlessly, in much the same way as their consumer-grade applications. If their tools don't work, they'll find something that does.
For your business, this presents a significant challenge. You'll need to attract and retain this newer talent with the right tools, services, and working styles.
Business benefits will also drive changes
Some massive benefits have come out of remote working, which has given many businesses reason to pause and consider it as a more permanent fixture. These include:
Increased productivity – the increase for telecommuters is equivalent to a full day's work.
Improved morale and happiness – a happy workforce is a more productive one, as someone who's feeling more fulfilled is going to put more effort into their day-to-day activities.
Work-life balance – through remote working, employees can spend more time with their families and less time commuting, while also saving money they can spend elsewhere.
Cost-savings – in terms of business overheads, fewer people in the workplace means less office space needed, lower leases, energy costs and so on.
Talent recruitment – up and coming generations value flexibility in the workplace. So if in the next few years you're not offering remote working, you could miss out on some great employees.
Higher retention – happier employees are less likely to move on from your company. Employees may also take fewer sick days, if they can work from home and not risk infecting the rest of the office.
How can you prepare for the future of work?
If your business is likely to be affected by the above influences, you need to stand back and take stock. How can you create the best remote working experience for your workforce, and what technologies should you invest in? Fortunately, we've done some of the hard work for you by looking at other businesses, their IT teams, and what they're doing to prepare for the future.
Embracing collaboration tools
It probably won't come as a surprise to you that we've seen a massive boom in the popularity of video and audio conferencing. In 2019, only 31% of businesses were using video to communicate internally. That increased to 56% in 2020 and is likely to further increase to 65% in 2021.
Some clear winners amongst vendors have been Cisco, with their Webex Teams proposition, Microsoft Teams and of course, the newer competitor on the block, Zoom.
Businesses say these solutions unite employees, simplify communications, integrate work and ultimately, drive productivity.
Another, unexpected benefit has been the impact on customer experience and client relationships. Businesses say these tools have helped them engage with customers and grow relationships, enabling continued face-to-face interactions throughout lockdown.
Beyond video and audio conferencing, we've seen businesses embracing other new ways of communicating. Many are using live chat and automated chatbots on their websites, with customers starting conversations through chat experience rather than inbound calling.
We're also seeing persistent chat grow internally, with many enterprises looking at how they can integrate WhatsApp into their business processes in the future.
Moving to the cloud and addressing security
In the last few years, businesses have shifted from not using the cloud, to using a few cloud applications, to moving all their applications to the cloud.
Between the end of 2019 and the end of 2020, many moved their on-premise PBX systems to cloud PBX systems. Not only did this enable home working, but it also became a catalyst for moving other applications to the cloud – from email software to contact centres.
With the shift to the cloud, security has risen further up the CIO agenda. IT teams are now looking at how they're going to secure their cloud applications so that everyone can securely access them going forwards.
Improving user experience
In addition to security, businesses are looking at improving the performance of business applications. The performance of video is a big one, especially in the more video-centric world of remote working.
Some companies are paying for employees' home broadband or offering network devices for home use – particularly for customer contact agents and C-level staff who need to deliver great customer service.
Another focus for businesses is around Secure SD-WAN solutions, which offer quality of service combined with a security wrap around to protect business data.
Tapping into vendor expertise
With huge changes to the working world on the horizon, business leaders and IT professionals such as yourself are left with many questions.
How many of your employees are going to be working remotely in the future? How can you offer that same great experience to them, wherever they are?
For many organisations, the key to finding answers to these questions is working with the right vendor. One that has plenty of experience delivering remote and hybrid working solutions, and will work with you to truly understand and meet the needs of your workforce.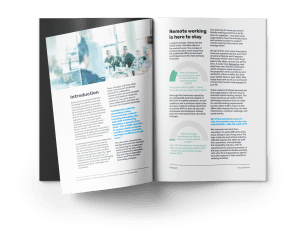 For more detailed research and insights into the future of work, download our report:
The Rising Trend of 'Work Anywhere' and How to Future-Proof Your Workforce

Download