By Jeremy Payne, VP International Marketing, Enghouse Interactive
This blog post summarises our webinar on How to Survive & Thrive in a Hybrid World, which you can watch here.
When you look back at 2020, you'll probably agree it was a year of profound change for customer contact. However, many of the technologies we've seen entering contact centres are nothing new; they were already trends that had been set in motion. For a lot of businesses, six years' worth of evolution were compressed into six months – or even six weeks in some cases!
In this blog, I discuss seven trends we've seen within contact centres in the past year, many of which have become more prominent due to remote and hybrid working.
1. Contact centre platforms are moving to the cloud
We've seen many businesses move their customer interaction management platforms, or contact centres, into the cloud. It's the first big piece of the puzzle, enabling agents to access core systems quickly and easily when working remotely.
2. Businesses are empowering customers to self-serve
Many organisations now provide various forms of social service – user forums, videos on YouTube, and content on social media channels and their websites. It means if a customer has a problem and types it into Google, they immediately find the answer without ever needing to pick up the phone.
3. AI and bots are on the rise
In addition to self-service, AI and bots are helping to solve customer problems without the need for intervention from the business itself. Bear in mind, though, that AI and bots are typically handling quick and easy requests that don't require human reasoning or empathy.
4. Unified communication tools are helping agents solve complex interactions
When it comes to the more difficult (and often ugly) customer interactions, they're going to need human intervention. And the onus doesn't just rest on one agent; the agent will usually need to draw on skills from the wider business.
While the workforce is geographically distributed, agents are using unified communications (UC) and collaboration tools to connect with the people they need across the business. We've seen a lot of interest in UC platforms, with different companies going in different directions depending on their needs, whether to Cisco Webex Teams, Microsoft Teams, Vidyo, Google or Zoom.
5. Speech analytics technology is improving the customer experience
Businesses are also investing in quality management systems that support agents working remotely and help them deliver a consistent customer experience. One area where we're seeing particular interest is speech analytics.
In the traditional onsite contact centre, if an agent is in a difficult conversation with a customer, their colleagues would overhear and be able to jump in or take over that call from them. This, of course, is not a likely scenario when agents are working remotely.
Instead, businesses are using speech analytics technology which monitors conversations between agents and customers, picks up on keywords, stress and volume, and if needed, creates an escalation trigger to a supervisor who can support the agent.
6. New roles are emerging in the contact centre
As businesses change how they deliver customer service, they need people with different skill sets, which means creating new roles within the customer contact workforce.
One such role is a Community Manager or Crowdsourcing Advisor. This person reads, vets and responds to the posts that customers are putting on the company's website or forums, making sure they're not defamatory to the brand and that they help future customers with their problems.
7. Businesses are turning to the gig economy to source talent
When I say gig economy, people instantly think of Uber Eats, Just Eat and so on. But with websites like Fiverr and Upwork, the gig economy is entering the professional services world too.
Most businesses will have a team of what you might call conventional customer service agents. But now we're seeing this supplemented by people with deeper, more technical skill sets, and these people may very well come from the gig economy.
For example, you may employ someone with experience settling legal disputes with customers in the travel industry, and that person isn't needed for 40 hours a week. Instead, they'll work within the gig economy, supporting three of four different travel companies besides your own!
Consider the trends and how best to apply them to your business
Many organisations approach new trends, like AI and bots, thinking they will be the silver bullet for their customer service operations.
What we often say to customers is that you can go down the AI road, where you're using that processing power in a human-like way, but it takes a huge amount of time and money to train bots in that way.
You're better off narrowing the scope of the bot down to a smaller number of tasks that are high volume, low complexity, which it can process with a high degree of accuracy in a cost-effective way. Use that as a starting point, then add another bot and increase the skill set.
As with any new trends, the mistake can be to jump in too quick, too deep, spend a lot of money and not get the result you want. So do your research; talk to vendors who truly understand your business and can identify solutions that will have a real impact on your customer contact operations.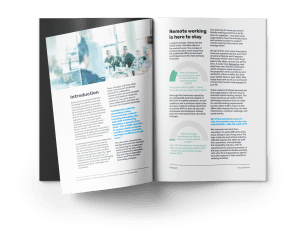 For more detailed research and insights into the future of work, download our report:
The Rising Trend of 'Work Anywhere' and How to Future-Proof Your Workforce

Download
Jeremy Payne
Jeremy has over two decades of distinguished experience in the software and services industry and has worked as a marketing leader within several blue chip corporates across the globe.  In his current role as VP International Marketing at Enghouse Interactive, Jeremy is responsible for the commercialisation of the company's four key solutions across Europe Middle East and Africa.
He is an expert in Customer Relationship and Interaction Management, as well as Business Process Improvement and Social CRM and has travelled globally presenting on the key trends in these areas.
Content from Jeremy