By Mark Needham, EMEAR Hybrid Workplace Lead, Cisco
This blog post summarises The Journey to a Hybrid Workplace webinar, which you can watch here.
As businesses transition from fully remote working to welcoming employees back into the office, the relatively new concept of 'hybrid working' has emerged. What is hybrid working, why embrace it, and how can you create a hybrid workplace? In this blog, we explore exactly these questions.
What is hybrid working?
It's a blended experience, where your employees choose when to work in the office, from home and somewhere between the two.
We see it as the next wave of workplace transformation. In the 70s and 80s, you had those dreary, grey cubicle workplaces designed for individual work. Then we moved to the offices we know today, more agile, open plan workplaces designed for collaboration.
Now, enter hybrid working, which is about individual autonomy. You choose your workplace for head-down or collaborative work so that you can be the best, most productive version of yourself throughout the day.
Hybrid working
vs. flexible working
Many have dismissed hybrid working as "just flexible working", but they are quite different things:
| Flexible Working | Hybrid Working |
| --- | --- |
| Limited to a specific persona who has the opportunity to work from home for a fixed time. | Available to the entire workforce, becoming the day-to-day experience rather than the exception. |
| Very structured, e.g. on a Friday, you catch up with admin from home. | Truly autonomous, allowing you to choose where you're going to be and what you're going to do in that location. |
| Restricted in terms of location; typically, you're either in the office or at home. | Freedom to choose where you're going to work, with secure access to your business data and applications. |
| With flexible working, you do your set hours. | Hybrid working is about working in whatever fashion you need to achieve results. So yes, that may involve working some nine to five days, but you may also work longer and shorter days depending on your objectives. |
Benefits of hybrid working
The business case for hybrid working is undeniable. You'll optimise your real estate, reduce travel spend, and see increased productivity and agility as you meet employee needs across your organisation. There are also some compelling benefits from a people perspective:
Retaining talent: It can't have escaped your notice that there's a massive knowledge leak, as 'baby boomers' from the post-war era go into retirement. Globally, they're retiring at a rate of 10,000 people a day. Executives and professionals at the next level don't always have the knowledge transfer they need to avoid disrupting your organisation. Hybrid working could solve this issue, allowing retirees to work three or four days a week or remain on call for a period. Essentially, it will enable them to sunset their career at the pace they choose to, without exposing your organisation to risk.
Attracting talent: With hybrid working and a single pane of glass to manage it, you no longer need to recruit people who are only within commutable distance of your head office. Your recruitment pool could be 200 miles away, across EMEA or even global. This recruitment approach means you can focus on getting the best people wherever they may be. And that human capital is what will drive your organisation to innovate, move forward and thrive.
How to create a hybrid workplace
So you're sold on the vision for a hybrid workplace, but how do you make it a reality? There are three elements which you need to consider.
1. Invest in tools for remote working
94% of employees want tools to improve their meeting experience at home.
When COVID first landed, businesses prioritised providing their teams with meeting platforms. But going forwards, a meetings client isn't good enough. You need to enable your entire organisation to perform their full roles, from wherever they are. They need tools for remote working including a complete collaborative suite, which allows document sharing, co-creation, persistent messaging and calling.
You also need to facilitate collaboration – not just internally – but with external stakeholders, in a secure fashion. Ideally, for a seamless user experience, your collaboration suite should be integrated into your line of business apps, where employees do the bulk of their work.
Once you have your collaboration suite, you need to ensure the experience is optimal for every employee. And this is where you need to think about your remote worker personas.
Consider your hybrid working personas
Collaborators – heavy collaborators will need a dedicated video endpoint to avoid 'hunched over laptop' syndrome. This way, they remain healthy, engaged in meetings and less tired going from meeting to meeting.
Communicators – if they're on back-to-back calls, they'll need an enterprise-grade, centrally managed business headset that provides sound definition, speech augmentation and other features for effective communication.
Concentrators – these employees will be predominantly doing head-down work on a laptop, so it's all about delivering a great experience on that soft client.
Highly mobile – a consistent mobile-first experience is crucial, as these workers regularly move from location to location.
2. Create a safer workplace
97% of employees want changes to make them feel safer at work.
Your staff will want reassurance that your workplace is a safe place to be. So information is important, whether through digital signage on video endpoints or every other bit of glass in common areas across the office.
Provide interactive kiosks, so visitors and employees can find where they need to get to and how to get there, while minimising accidental interactions with others.
Share real-time density stats with people, so they know they're in a safe place or can move away from high-density areas. These same personalised notifications can be delivered to apps on devices, before people leave home, as they arrive at the office and as they navigate various floors.
Real-time stats on meeting room occupancy and booking features will enable people to decide when to come in and how to use the office. They'll also provide valuable workplace analytics for facilities teams, who can then make better decisions on meeting room provision and keeping people safe.
Inside meeting rooms, the entire collaboration experience can be contactless. Your employees and visitors need not touch a single thing in the room, but can control the whole experience wirelessly via their device, along with using voice commands.
Sensors built into meeting rooms and desk hubs can track heating, lighting, air quality, acoustics and other environmental features. This data then feeds into your smart building integration, becoming triggers for pulling up the blinds, turning on the air-con or making changes to the acoustics.
This mix of technologies creates the best of both worlds; people want to come to your office because it's a safe, comfortable environment to work in, which at the same time, gives them the human contact they need.
3. Create more engaging, collaborative workspaces
96% of employees indicate they need intelligent workplace technology to improve work environments.
Many people want to return to the office, but not to do their head-down work. Rather, they want to be an office to do their richest collaboration and fulfil their social needs. This change in employee expectations should impact your workplace design and how you manage the in-office experience.
Consider more collaborative spaces in your office, such as:
Jump rooms/phoneboxes/focus rooms – private, individual spaces where you can jump in, take a phone call or video meeting and jump out.
Community tables (harvest tables, library tables) – bigger tables where you can collaborate with people more naturally. It's unlikely you'd camp out on these locations for the day, but it's a great space for brainstorming, moving projects forward and socialising.
Community lounges – think of it as a business class lounge at an airport. You've got a coffee machine, big sofas and attractive furnishings. It's an inviting environment to drop into between meetings or journeys, and for informal meetings with colleagues and visitors.
The next wave of workplace transformation
Ultimately, the past year of remote working has been a wake-up call to employees and businesses – that there is a different way of working.
With employees calling for more opportunities to work from anywhere, businesses must respond to that demand and create hybrid workplaces. Otherwise, they risk losing talent, and could miss out on opportunities to optimise their working environments and productivity.
Hybrid working is the future, and collaboration technologies will be the foundation it's built on – so it's worth researching your options.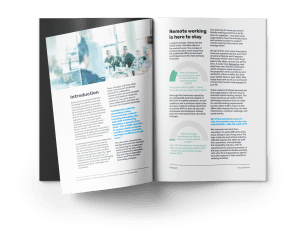 The Rising Trend of 'Work Anywhere' and How to Future Proof Your Workforce.
Click here to download the whitepaper.
---